The Journey
Our Stories, One Journey: Empowering Rural Women in Asia on Food Sovereignty
[vc_row][vc_column width="2/3″][vc_column_text]
In 2013, the travelling journal Our Stories, One Journey: Empowering Rural Women in Asia recorded the thoughts of 8 rural women for 10 days in 8 different countries The women wrote, drew and composed poetry and songs.  The journal started in March in the Philippines and travelled to Indonesia, China, Cambodia, India, Sri Lanka, Malaysia, ending its journey in August 2013 in Vietnam.
This year, the Asian Rural Women's Coalition (ARWC) together with Pesticide Action Network Asia and the Pacific (PAN AP) and Oxfam's East Asia GROW Campaign comes up with the Women's Travelling Journal on Food Sovereignty highlighting 45 women in seven countries- Philippines, Indonesia, Nepal, Bangladesh, Sri Lanka, India and Pakistan.
And like the first travelling journal, it is under ARWC's Women! Assert our Rights to Land and Resources campaign, a platform to highlight rural women's leadership, rights and roles in agricultural development and food security. It is a space to enrich experiences, share strategies and consolidate efforts through advocacy and grassroots work from local to global levels.
In this localized travelling journal, rural women identified by local partners from each of the seven countries write about their daily experiences, current problems and opinions on food sovereignty/ land and resource grabbing issues. They will also share their personal insights of their lives in their respective communities as mothers, sisters, daughters, wives and as members of their organizations.
[/vc_column_text][vc_cta_button2 h2="View first travelling journal" style="square_outlined" txt_align="center" title="Text on the button" btn_style="rounded" color="blue" size="md" position="right" el_width="50″]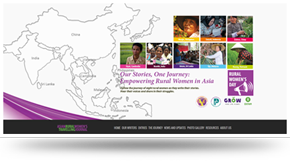 [/vc_cta_button2][/vc_column][vc_column width="1/3″][vc_column_text]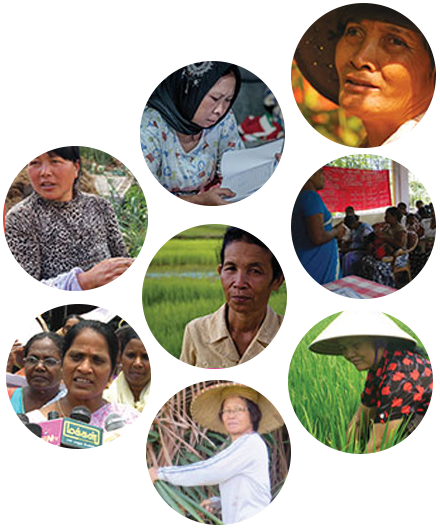 [/vc_column_text][/vc_column][/vc_row]